The Thomas P. Turner Foundation (TPT Foundation) is excited to host the inaugural
Hancock County Boot Scootin' Boogie on Saturday, Feb. 11, 2023, at St Michael Catholic
Church in Greenfield at 6:00 PM.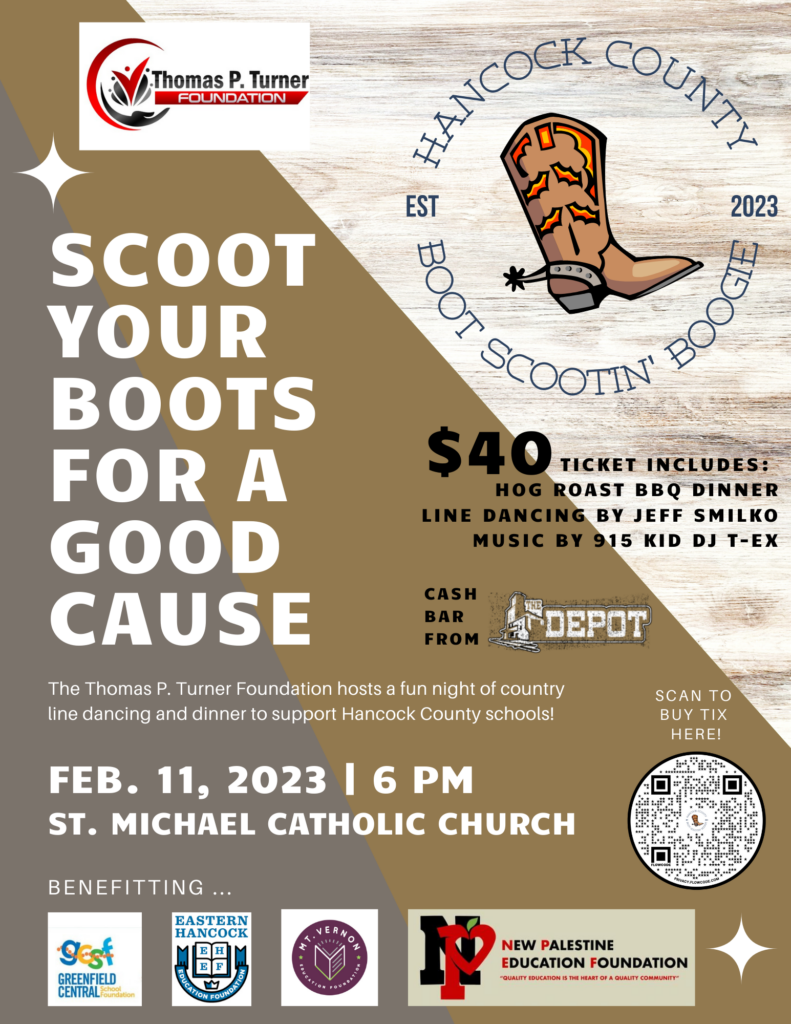 Bring your Valentine or corral some friends to go country line dancing and enjoy a BBQ
dinner to benefit the Community of Hancock County School Districts through the
following foundations:
Greenfield-Central School Foundation
Eastern Hancock Education Foundation
Mt. Vernon Education Foundation
New Palestine Education Foundation

Andy Turner, Board Chair of, TPT Foundation, said, "The Thomas P Turner foundation was
built to help other non-profit organizations with their fundraising. Helping all 4 school
foundations in Hancock county will be a great honor. My daughters are in Greenfield's
school district and I have personally witnessed the impact and importance of the
foundation for our youth."

The $40 admission ticket includes a hog roast BBQ dinner and free lessons from one of
the top-line dancing instructor in the state, Jeff Smilko.

Dance the night away with music from the esteemed 915 Kid DJ T-ex and the Depot will
be onsite providing a cash bar.

Let's scoot some boots for a great cause! Tickets can be purchased directly through the
Thomas P. Turner Foundation Eventbrite or directly at https://bit.ly/3kn3Bv3