The Mt. Vernon Education Foundation (MVEF) is pleased to provide this forum, to help voters learn more about our three candidates vying for the two At – Large MV School Board positions. "School boards play a unique role in school district governance and provide a venue for communities to have democratic input into local education decisions. An effective school board member in executing their responsibilities clearly understands the importance of district governance and has a strong commitment to advancing student outcomes. The school board election results will have a direct impact on the future direction of our school corporation," stated Renee Oldham, Executive Director.
The forum will be held on Wednesday, October 19, 2022, from 7-8 PM at the Mt. Vernon Alumni Center it will be recorded and shown live on the Mt.Vernon YouTube channel and linked on https://www.mvcsc.k12.in.us/ and http://www.mtvernonfoundation.org
If you have questions please contact, Renee Oldham at Renee@MtVernonFoundation.org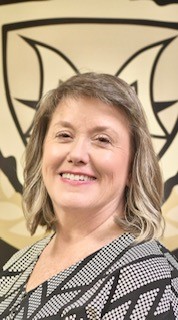 Kellie Freeman has lived in the southwestern part of Hancock County for 32 years. Kellie has been a proud public educator for 36 years. She was a classroom teacher in Hamilton County for students with mild and moderate disabilities for 20 years before switching to her current role as Transition Coordinator. In this role, Kellie supports families in getting connected to needed services and facilitates two off-campus programs that focus on vocational training, community involvement, and independence for individuals with special needs.
Kellie is the proud mom of two Mt. Vernon graduates. Her son Dylan graduated in 2016 and her daughter Tessa graduated in 2020. Kellie's husband, Joe Freeman, taught at Mt. Vernon High School for 41 years before retiring at the end of the 2020 school year.
Before deciding to run for school board for the first time in 2014, Freeman served on the PTO for the Mt. Vernon schools her children were attending at the time. She was also a member of the Corporation Improvement Council, and a team rep with the Athletic Boosters. As time allows, Kellie still volunteers to help with various Athletic Booster activities. Kellie has served as the MVCSC Board President for the past three years and was recognized by the Indiana School Boards Association with an Exemplary Governance Award for continuous improvement and professional development in May of 2021.
Kellie grew up in Mooreland, Indiana, and attended Blue River Valley High School. She obtained her Bachelor of Science in Special Education degree from Ball State University. Freeman taught in Winchester, Indiana, for three years before becoming employed with Carmel Clay Schools, where she still teaches today.
Freeman is dedicated to being a voice for teachers and students while serving on the MVCSC Board. Her perspective as a public educator allows her to help guide decisions and policies that will keep MVCSC on a path to being the very best place for students to learn and educators to teach. Kellie feels strongly that being transparent with policies and finances, as well as being true to our community values, is vital to our growing district. She is proud to have served these past eight years and hopes to have the opportunity to serve for four more!
Shannon Walls lives in McCordsville, IN with her husband Matthew since 2004. She currently is employed as the Sales Manager for Commercial Food Systems, working with over 500 schools across the state of Indiana assisting school nutritional programs with meeting strict requirements enforced by USDA and the Department of Education. She is also a co-owner of Aqua Leak Solutions and most recently launched her own business, "Get to Know Me", an organization focused on connections.
Matthew and Shannon have two sons who are Mt. Vernon Graduates, Zakary Weaver, class of 2012, and Blake Walls, 2020. Zakary is a 2016 BSU graduate and Blake is a Junior at Purdue University. She attributes their success in college to the education they received at MV!
Walls has been a long-time volunteer and advocate for MVCSC. She is a founding member and Emeritus Board Member of the Mt Vernon Education Foundation and served as the Event Director for the Foundation for many years. She has also served on many PTO Organizations in the Mt. Vernon district including McCordsville Elementary, Mt. Vernon Middle School, and Mt. Vernon High School. She also is the Mt. Vernon representative for the McCordsville Redevelopment Commission and also serves on the McCordsville Economic Development Board. Walls supports many organizations inducing Indiana School Nutrition Association, Campus Life Ministries, Outlook Christian Church, and Christian Missionary Fellowship.
Her continued desire to require excellence from Mt. Vernon schools has not wavered over the past 8 years on the Board of Trustees. Shannon continues to believe our schools must continue to expand quality student programming so all students are prepared to compete in an ever-changing global society. Walls believes the Mt. Vernon Administration and Board of Trustees must continue to be financially transparent and responsible, conservative in our decisions, and honor the values and history of Mt. Vernon Community Schools.
Josh Worth is a resident of Cumberland and a class of 2005 Mt. Vernon High School graduate. My wife, Ashlie (D'Angelo) class of 2003, and I have two daughters currently attending school in the district. Maggie is a 5th grader at MCE and Molly is a freshman at MVHS. While at Mt. Vernon I participated in football and track. I graduated from IUPUI in 2013 with a bachelor's degree in general studies. I have been an Indianapolis firefighter for 9 years. I was recently involved in the Whole Child Committee for the school corporation. I am a proud Marauder and I'm excited for the opportunity to serve the community I grew up in. I'm looking forward to being a part of keeping our schools an integral part of our community's success.
*Biographical information and pictures were supplied by the candidates.