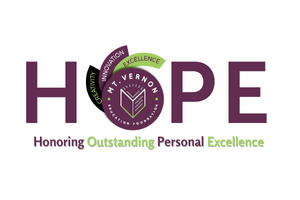 "A big shout out to all the kids who didn't win an award, make the honor roll, and barely made it through the school year. A big hug to the moms, dads, grandparents, caregivers, and foster parents that stuck by them as they maneuvered the school year. To the kids that didn't get invited to the prom, didn't get a scholarship to college, and perhaps must go straight to work out of high school. you are still worthy of a pat on the back and a Facebook post with people talking about how amazing you are. Some kids must work twice as hard as other students just to get a C. Their achievements deserve recognition. Don't forget those kids. Kindness, creativity, and generosity…… those attributes sadly don't get the accolades they deserve." -OUR MVEF WHY!
H.O.P.E. AWARD
We are delighted to announce the inaugural HOPE Award by the Mt. Vernon Education Foundation. This prestigious recognition aims to honor students who exemplify exceptional attitudes and actions, inspire others, and actively contribute to the improvement of their schools and communities. The HOPE Awards are open for nominations by any MVCSC employee, but the nominations are completely voluntary and not obligatory through March 1, 2024.
The HOPE Awards seek to celebrate students who demonstrate remarkable qualities such as courage, kindness, perseverance, integrity, and more. It is open to students of all grade levels and abilities. The award recognizes students who consistently strive for their personal best, and exhibit resilience in overcoming various obstacles, be they emotional, physical, socioeconomic, or otherwise. These are the students who exhibit a "no-excuses" mentality and consistently put forth their utmost effort.
Among the eligible nominees are those students who have managed to turn their educational journey around after facing disciplinary issues. Their transformative experiences and commitment to personal growth make them strong candidates for nomination.
While there is no obligation to nominate anyone, those who choose to do so must provide a narrative explaining the reasons behind their nomination. This narrative should shed light on the exceptional qualities, accomplishments, and contributions of the nominated student.
The Mt. Vernon Education Foundation encourages the MVCSC employees to consider potential nominees carefully and nominate deserving students who have made a positive impact on their school and community. Together, let's celebrate these inspiring individuals together on Sunday, April 21st at the MVHS Auditorium who embody the spirit of HOPE and serve as inspiration for their peers. If a student is not selected to participate in the award recognition, they will receive a letter to their home recognizing their nomination. For more information contact: Renee@MtVernonFoundation.org
Please click the link below
https://docs.google.com/forms/d/e/1FAIpQLScBG_I0LjwACfRggkzNjDU453KmCxr6bfaBMZPb5Hj8TroVRQ/viewform?usp=sf_link